According to Forbes' rich list, an unprecedented 2,755 billionaires feature on 2021's billionaire's list with a ​record-breaking new billionaire created every 17 hours, on average. But with endless possibilities for places to live, which of the world's cities are most attractive to the youngest of this year's billionaires?

The investment experts at money.co.uk analysed Forbes' Real Time Billionaires list for all billionaires under the age of 40 and their current cities of residence.

Spanning five of the seven continents, only 18 countries are home to billionaires under the age of 40 – and, according to Forbes, there are currently just 89 billionaires under 40 in the world.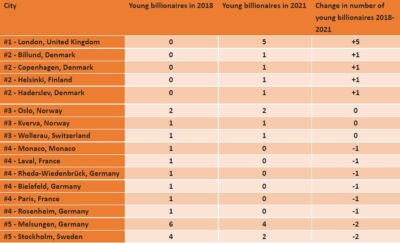 Money.co.uk found that London, United Kingdom is the European city where young billionaires have increased the most, up by five since 2018.

Billund in Denmark, Copenhagen in Denmark, Helsinki in Finland, and Haderslev in Denmark have all increased their young billionaire count by one since 2018.
Three cities have remained with the same number of young billionaires since 2018. Whilst Kverva, Norway and Wollerau, Switzerland have remained on one billionaire, Oslo, Norway has remained home to two billionaires under 40.

Six European cities had one young billionaire in 2018, but are now home to none.

The European cities that have decreased most are Melsungen in Germany and Stockholm in Sweden, each having lost two young billionaires since 2018.