A new report from XTB.com, a foreign exchange (forex) and contract for differences (CFDs) brokerage, explores the current gender investment divide.
The data reveals only 9.7% of all transactions are made by women.
Whilst women only account for around 10% of all trades, the data indicates they perform slightly better per trade than men.
The report reveals the top 10 stocks traded by women during 2021, with Tesla, AMC and TUI making the list.
With investing on the rise, reports highlight that woman are slowly being left behind1. Despite research and data suggesting that women are better investors than men2, the gender investment divide is evidently apparent around the globe.
With a focus on the gap between men and women who invest in the stock market, whether through individual stocks, funds, or exchange-traded funds (ETFs), it raises the question… really how big is this gap? And are some countries experiencing more of a divide than others?
Through the utilisation of internal user data, XTB.com highlight the incredible gender investment divide in the countries in which they operate, such as the UK, France and Poland. So which countries have the most substantial gap between men and women?

Which countries are experiencing the greatest divide?
Whilst the internal data reveals that the average transaction split is 90.3% male to 9.7% female, for many of the listed countries, it's far lower. Poland, Spain, Germany, Slovakia, France, Portugal, and Czech Republic all fall below this average with Poland experiencing the greatest divide (5.7% vs. 94.3%).
Whilst countries like the UK (10.5% vs. 89.5%) and Hungary (11.7% vs. 88.3%) sit above the average, the gap is still significant. It's only Chile (17.9% vs. 82.1%) which looks to be narrowing the gap and going in the right direction.
Below is the list of each country of operation in order of lowest female transaction percentage: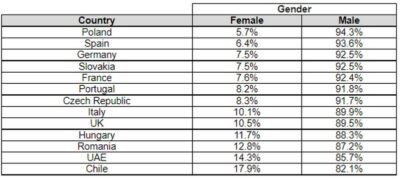 Looking toward the top stocks traded between men and women, it's Tesla which sits unsurprisingly at the top for both. Sharing similar interest in household names, NIO, AMC, GameStop and Apple all make the top 10 list for both.

Wirecard AG, McEwen Mining, Virgin Galactic, and TUI are the stocks favoured by women and not men. But with the understanding that women are slightly more successful traders, maybe the male population should take note.
Listed below are the top 10 stocks men and women are investing in through XTB.com:


Joshua Raymond, Director at financial brokerage XTB comments: "Whilst it's clear that there are a lot of similarities between men and female traders in terms of which markets they select, the data is quite clear that women outperform men when it comes to performance. In this sense, it's disappointing that women still account for a minority of our total trading client base. I hope this changes in the next decade."